If you're looking for a budget Unitas 6497 powered flieger/pilot watch, especially a 'nine-eater', then you probably might had already heard or looked at brands like Ollech & Wajs
,
Trias, Jurgen & Gallai, or Kienzle to name a few. The problem is the really budget ones like the Trias are not nice enough and the really nice ones like Jurgen & Gallai or Kienzle can't really be considered budget watches. Anyway at the same price range people probably look at the more interesting Debaufre watches instead.
Enter the Altanus Unitas Flieger. It has the same style of nine eater dial like those offered by Jurgen & Gallai and Kienzle, cathedral hands and strong lume. The price is just right. However these seems to be rare and it seems really hard to find new pieces, though they sometimes pops up pre-owned on the various sales forums. Having no luck at the sales forums, I thought I should check out the original seller's Ebay store.
So while trying to procure a piece from the Swiss Ebay seller
uhren_baron
, who's the source of these Altanus watches, I discovered he's got another brand to offer. The Oscar.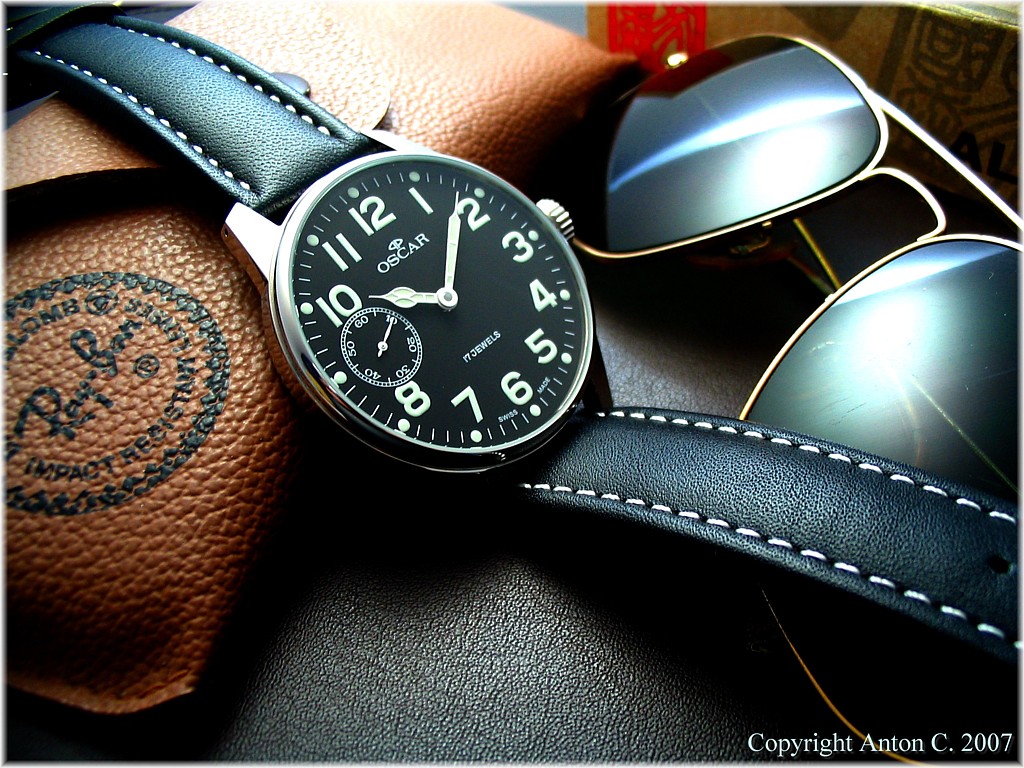 It seems identical to the Altanus and the seller told me its from the same factory.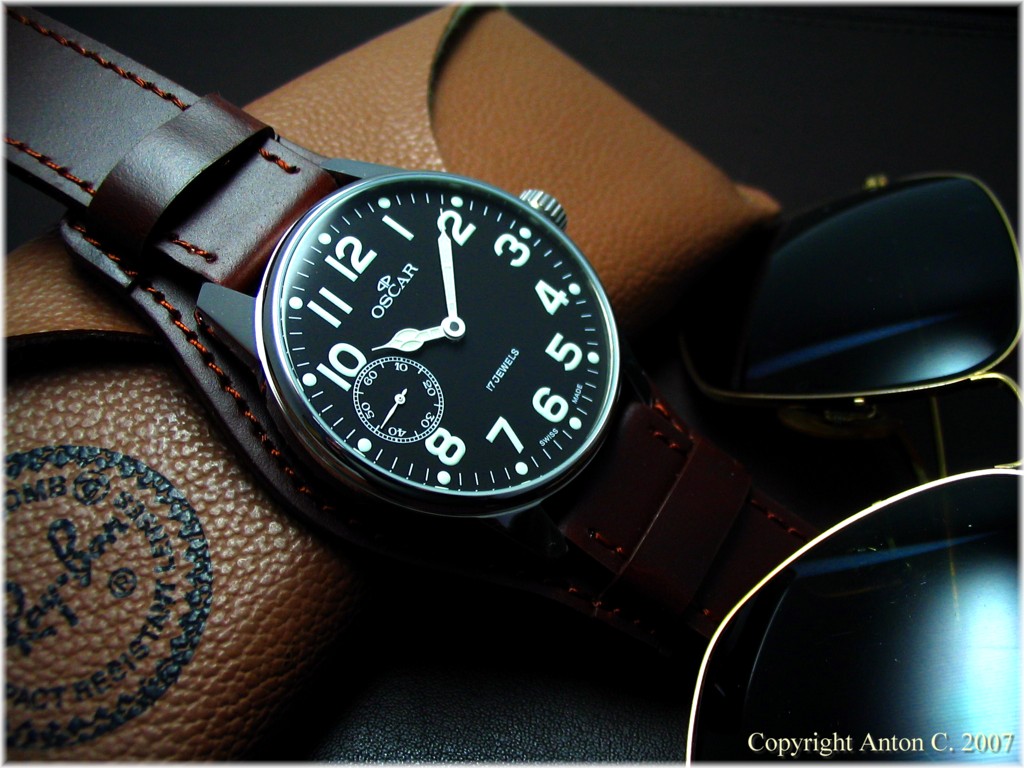 Comes with a display back. The Unitas 6497 movement is undecorated.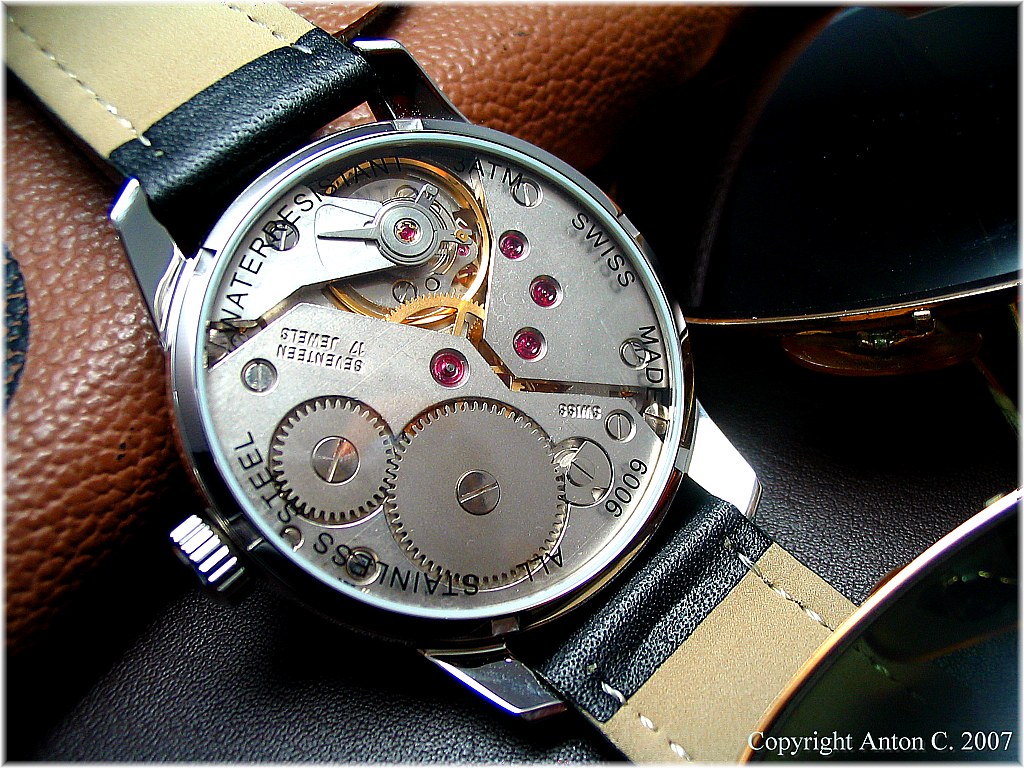 Lume is pretty good, I think it's Super Luminova.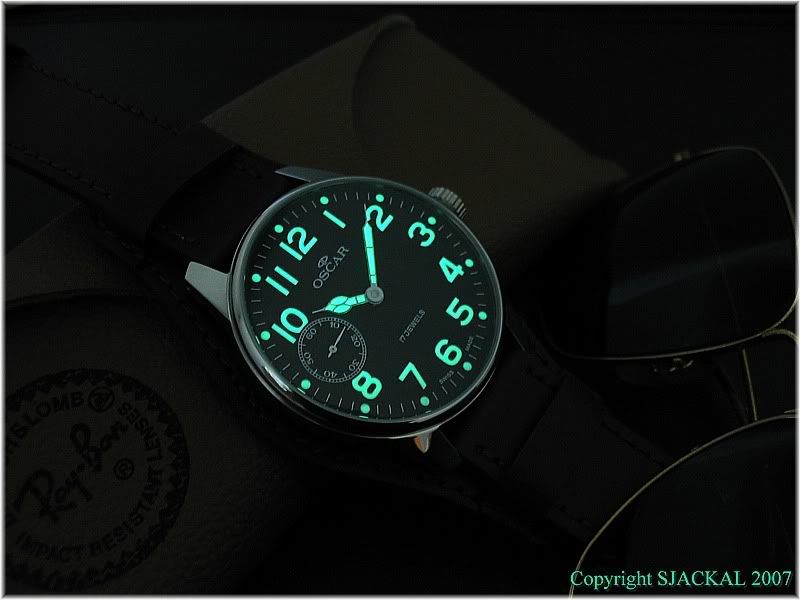 The mineral crystal is slightly domed, the stainless steel case size is about 40mm excluding crown and lug to lug distance is about 48mm. The watch also wears flat at about 10mm height at the thickness part.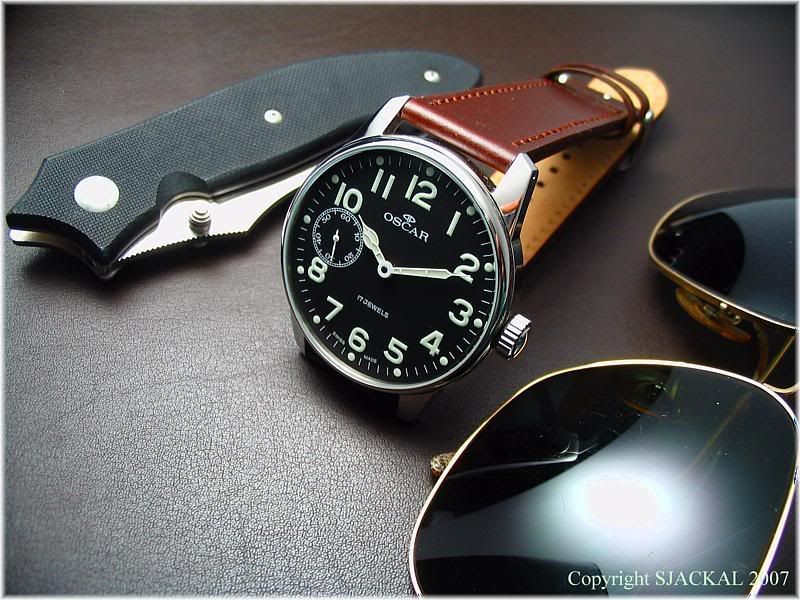 Needless to say I am happy with this purchase. I paid about CHF250 shipped back in December 2007. Thus far I had not see another similar piece, though I seen many other Oscar watches on the Unitas movement.
Till date, I think the Altanus is still the best bang for buck Unitas Flieger watch. There are some Altanus owners who are bothered by the 'anus' word on the dial, so the Oscar might be a better option if one could find another one from the Ebay seller. Though the sales forums might be more practical, since I had not seen either watches in
uhren_baron
's Ebay store for sometime.
*Update on 31 August 2008: I was informed by Chris (Ray Knight on WUS forums) that this watch was being sold on
Ottofrei
as a kit recently, though when he last checked it was no longer available.